Virtual Mission Track Waste Management & Circular Design South-East Asia
October 23, 2020
As part of the virtual mission to South-East Asia, Holland Circular Hotspot organised a series of activities  for the track 'Waste Management and Circular Design. The broader mission, which took place from October to December 2020, was focused on promising sectors for Dutch entrepreneurs and knowledge institutions active in agrifood & technology, water management and technology, and waste management and circular design.
Get an insight of a selection of the events that took place below.
Watch the video impression!
Official mission Kick-off with Dutch Minister Sigrid Kaag
The kick-off for the broader Southeast Asia mission took place on October 12th 2020. Minister for Foreign Trade and Development Cooperation, Sigrid Kaag, emphasized the importance for companies to connect to create smart solutions for a sustainable future, especially now that many want to make a shift to more sustainable economic activity.
An exclusive kick-off of the Waste & Circular Design track took place on the 15th of October. A great introduction of the developments and available business opportunities in Thailand, Malaysia, Singapore, Vietnam and Indonesië were presented.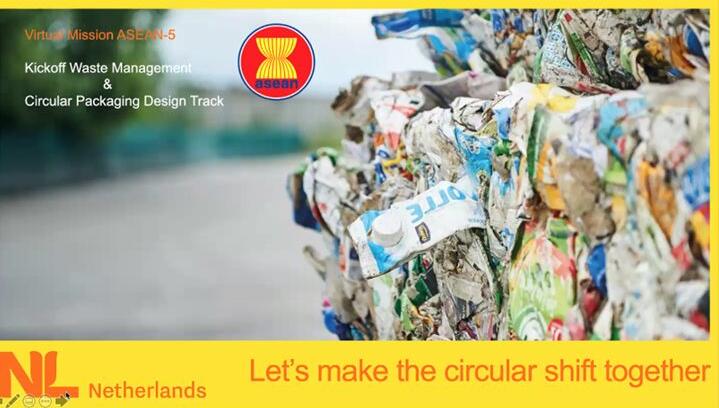 IGEM Digital event: 'Total Value Chain Approach in Waste Management'
The optimization of the national waste management towards a circular economy is a common goal across different countries. After the Opening remarks by YB Puan Hajah Zuraida Kamarudin, Minister of Housing & Local Government Malaysia, the event focused on the concept of value chain approach, the importance and challenges in waste management and how countries can adopt and adapt to this. 
The Netherlands is in the forefront of this sector and the panelists shared some of the best practices from The Netherlands, lessons learned and the need for public-private collaboration all over the value chain. This session also included best practices in the current waste management in the ASEAN5 (Malaysia, Indonesia, Vietnam, Thailand and Singapore) countries and their outlook in the years to come. The main takeaway from the session? International collaboration is essential as we need to work together on the demand of consumers for waste free solutions and scaling up of technologies! 
Asean5 quick scan on the local market developments and Circular Economy initiatives
What's happening on Circular Economy in Thailand, Vietnam, Malaysia and Indonesia? This webinar was about sharing information and connecting the Dutch network. The session gave participants insights on Circular Economy developments in the market and -policies and learned how clusters of companies work together in the region on Waste Management projects. Also it showed embassies and public-private programmes in the countries support Dutch companies by offering them a soft landing and leading to initiatives like for example Circular Economy Hubs in Thailand and Singapore and Ecoparcs in Indonesia and Malaysia.