Denimtex – Jeans on the wall
In the Netherlands alone, no fewer than 1.2 million items of clothing are tossed in the incinerator every year. Absurd, says painting company Gebroeders van der Geest. That is why it devised a resourceful application for discarded clothing: Denimtex. It literally turns jeans into wall covering.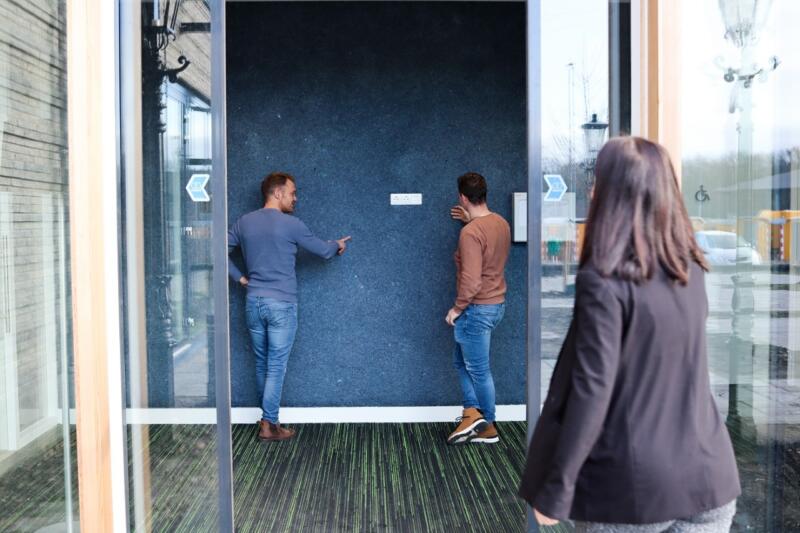 "1.2 million items of clothing, that is a huge amount of materials that will eventually be irrevocably lost in waste incineration."
Denimtex
Wall coverings
Denimtex turns discarded jeans into circular wall decorations by unravelling jeans into textile fibres, using the method of mechanical recycling. With a bio-based glue, Denimtex ultimately processes the fibers into a textile stucco that can be applied to walls and ceilings. The product can be removed from the wall by means of water after at least ten years of life. What makes it unique is that this process can be repeated ten times without losing any properties or adding new ingredients. As a result, the product is not only circular but also functional. It is sound-absorbing, fire-retardant, moisture-regulating and suitable for almost every surface.
The production model developed is entirely circular: using this wall covering the company contributes to reducing waste. Because all Denimtex products are recyclable and reusable, waste is not only diverted and deferred; it remains as a raw material in a circular business model.