PharmaSwap – battle medication wastage
PharmaSwap helps reduce the spillage of medication approaching the expiration date. Pharmacists can share the demand and supply of subscription medication in this sharing marketplace. Likewise, wholesale organisations can share stock coming to the expiry date. The medication production process ranks 3rd in most CO2 emitting processes in healthcare. By optimising medication usage already on the market, PharmaSwap contributes to cost savings in healthcare while working on a more sustainable system.
The medication offered on PharmaSwap has always remained under the strictly controlled storage conditions legally imposed on pharmacies. Moreover, the shipment of traded goods through PharmaSwap is organised in a safe, GDP compliant manner to guarantee safety and quality at every stage.
"Pharmacies can operate in an even more sustainable manner. PharmaSwap will contribute to this aim"
Jelmer Faber co-founder PharmaSwap
A sustainable sharing health care marketplace
Two Dutch pharmacists developed PharmaSwap in 2017, Jelmer Faber and Piter Oosterhof, who noticed the amount of wastage of medicines in pharmacies. These medicines have never left the pharmacy and were stored under controlled conditions. They teamed up with sharing marketplace specialist FLOOW2 and created a digital platform that connects pharmacists and facilitates efficient matchmaking.
Medication that is likely to be destroyed in one pharmacy can be supplied to a patient from another pharmacy instead. ParmaSwap was awarded both jury and the public award for most sustainable health workers in 2019 and the 2020 innovation award by the Dutch pharmacist federation KNMP.
Over 600 pharmacists (>30%) are registered, and nine wholesale organisations have joined. With a well-established workflow in the Netherlands, PharmaSwap is looking at other European countries to introduce the healthy habit of optimising the usage of medicines.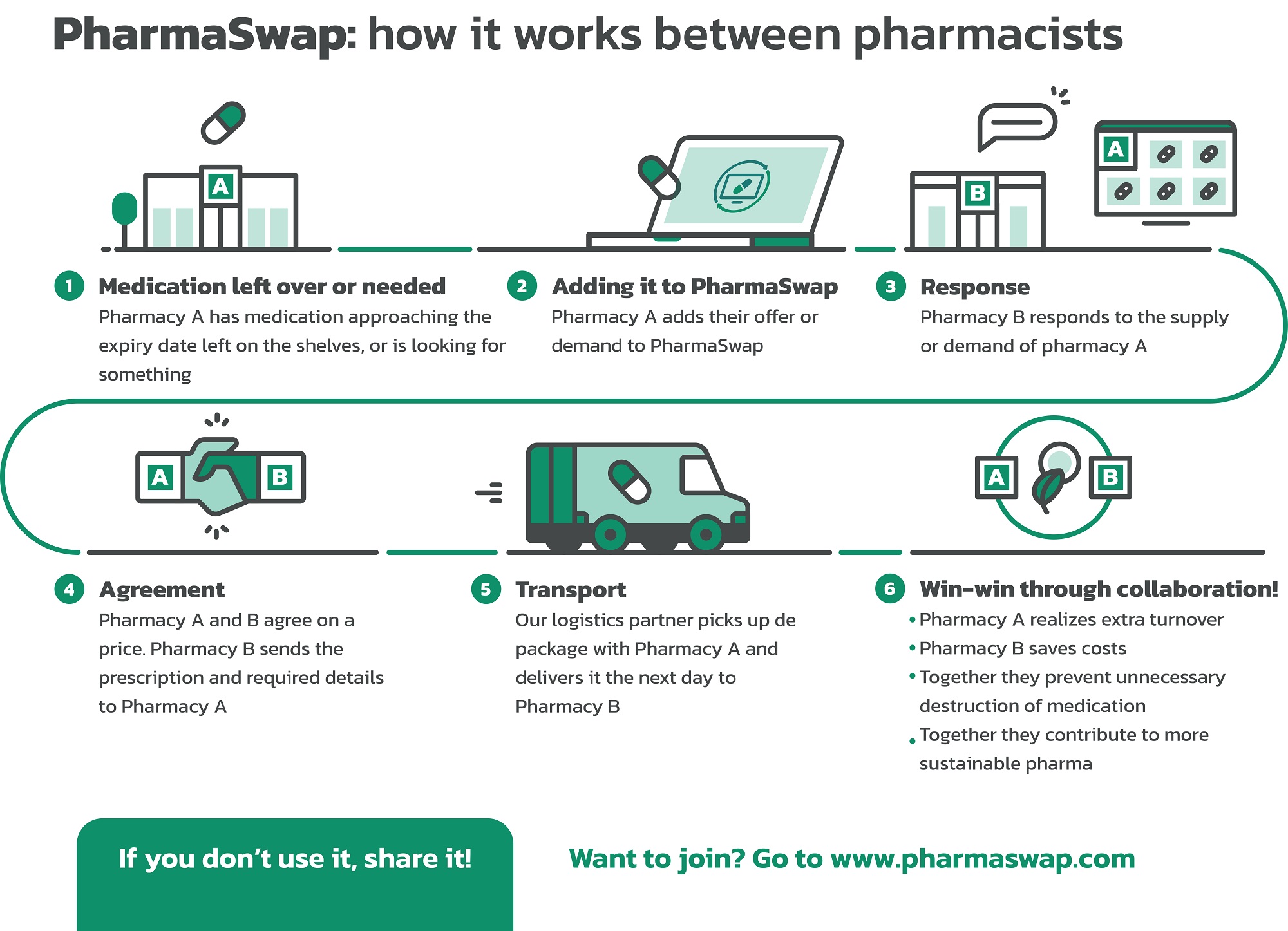 Data Regarding Impact:
More than 30% of all Dutch pharmacists have signed up for PharmaSwap. As a result, nearly 4.000 packages were saved from destruction and issued to a patient instead, saving well over €600.000 on healthcare costs.
In addition, pharmacists typically save 30-50% on procurement costs by buying from a colleague instead of the regular channels. In Q1 of 2022 alone, more than 800 packages were saved, valuing more than €60 K in healthcare costs.