WasteBoards – Skateboarding on recycled bottle caps
The Dutch start-up company WasteBoards came up with the world's first environmental friendly skateboard. Using a special process, the company produces unique handmade skateboards using recycled plastic bottle caps. The caps are collected at music festivals or, with a little help of PlasticWhale, fished out of the Amsterdam canals. WasteBoards also buys plastic bottle caps from the Royal Dutch Guide Dog Foundation (KNGF), paying KNGF twice the price of what they normally would get from recycling companies. Even little kids donate their collected bottle caps to WasteBoards.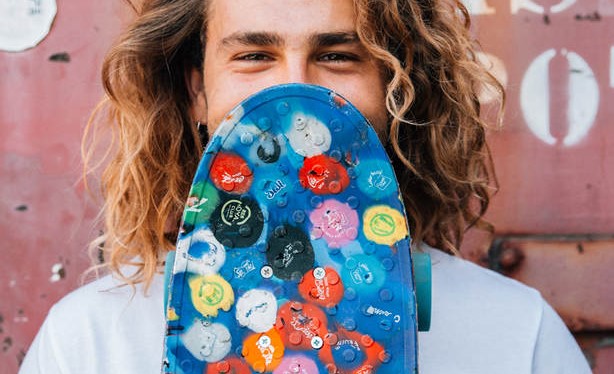 How it works
The collected bottle caps will be kept as a whole or are shredded. The caps are placed on top of the melted plastic shreds in a mould. The 2 parts of the aluminium mould, weighing 35kg each, are screwed together asserting pressure to the caps and plastics. Through WasteBoards' 3-hour special baking process the shreds and the 1,000 caps melt together into 1 piece. The logos on the caps will remain visible, resulting in their unique and colourful designs.
After the board is cut out of the mould and tidied up, the 'trucks' (or wheel suspensions) and wheels are added to the skateboard – in the future, these parts will be made out of recycled materials too.
Apart from baking the boards in their workshop, WasteBoards also brings their mobile wasteboard bakery – transporting it in a large container – to the festival location, a world's first. Visitors can bring their own bottle caps and through the same process as in the workshop, have the skateboard baked onsite.
Skateboarding into the future
Wasteboards' mission is to help solve the world's plastic waste problem. They hope to export their idea and have their mobile wasteboard bakeries installed in countries around the world where there is a surplus of plastic waste. Initial contacts have already been established in Mumbai, Rio, and Manilla.
Besides solving the environmental impact, the Dutch company also wants to have a social impact through stimulating local employment and entrepreneurship.
The ultimate goal is to get rid of the world's plastic waste. As WasteBoards co-founder Jonathan Morrison says: 'We're in business to go out of business!', meaning that WasteBoards will stop to exist when it ultimately runs out of raw materials (plastic waste) and that is a good thing.