Looking Back: World Circular Economy Forum 2023
June 15, 2023
One of the major circularity events, The World Circular Economy Forum (WCEF), was held in Helsinki from May 30th to June 2nd. The forum was organized by the Finnish Innovation Fund Sitra and Nordic Innovation, with the Netherlands acting as an official partner.
Holland Circular Hotspot (HCH), in collaboration with the Ministry of Environment and the Dutch embassies in the Nordics and Baltics, proudly participated in the event with a Dutch delegation consisting of approximately 70 companies from the Netherlands. Minister of Environment, Vivianne Heijnen, accompanied the delegation, as they sought to gain insights, foster networking opportunities, and collectively explore practical approaches to advancing circularity.
"We need international cooperation to boost knowledge and innovation development, identify and share best practices for policies that benefit circularity in the sector and ensure alignment and harmonisation of norms and standards, which will enable more circularity in construction."
Vivianne Heijnen, Minister for the Environment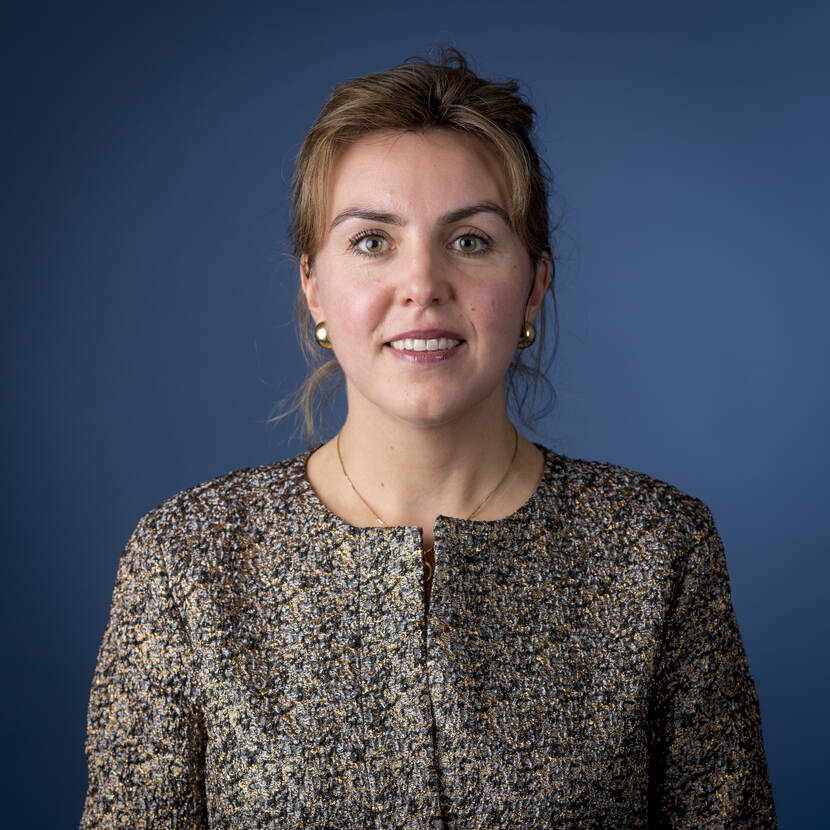 Dutch Delegation at World Circular Economy Forum 2023: Showcasing Circular Economy Endeavors and Driving Global Collaboration
A delegation from the Netherlands, comprised of approximately 70 companies, knowledge institutions, and representatives from the public and private sectors, made a significant impact at the World Circular Economy Forum 2023. Throughout the four-day event, the Netherlands had the opportunity to showcase their efforts and achievements in the field of circular construction, including an official visit to YIT, where they explored innovative practices firsthand.
In addition to their notable role, the Netherlands had a strong presence at the official NL Expo Booth and participated in a Nordics dinner, further reinforcing their commitment to advancing the circular economy. The Dutch delegation actively participated in a series of engaging Accelerator Sessions, collaboratively organized with Holland Circular Hotspot, African Circular Economy Network (ACEN), Nordic Circular Hotspot, and ECESP. These sessions delved into crucial topics, such as tracking Africa's progress in adopting circular practices, promoting global cooperation to establish circular hotspots, fostering interregional collaboration for sustainable built environments, and driving circularity within the plastics value chain.
Circular Construction plenary session
On May 30th, the Ministry of Infrastructure and Water Management, together with the Finnish Ministry of Environment and the UN Environment Programme, co-led a significant plenary session on the circular economy and the built environment. Minister of Environment Vivianne Heijnen played a key role, showcasing exemplary practices and innovative approaches that offered valuable insights into achieving closed-loop systems.
During her visit, Minister Heijnen had the opportunity to witness the practical implementation of circular principles at a renovated construction site in Helsinki. She drew inspiration from the pioneering work of YIT, a major Northern European development and construction company. The longstanding collaboration between the Netherlands and Finland in circular construction was underscored as crucial. The ministry highlighted Finland's expertise in "bio-based" building, timber construction, and circular solutions within the building sector. As a result, the Netherlands can gain substantial knowledge and draw from the experience of Finland in these areas.
NL meeting hub
At the WCEF2023 conference center in Helsinki, the Netherlands made a notable presence with its own stand at the expo. The Dutch Ministry showcased successful policy practices, while our team presented the Dutch circular business community. The NL-booth served as a lively meeting point for the Dutch delegation, providing an inspiring and informative hub showcasing innovative best practices to participants from other countries.
State Secretary Vivianne Heijnen actively engaged with entrepreneurs and explored various circular innovations. She expressed admiration for the ingenuity and implementation of circular solutions by companies. The Netherlands pavilion served as a vibrant gathering spot and focal point for the delegation to convene and foster meaningful interactions.
"The 2023 WCEF underscored the significance of the circular economy in creating tangible impact by harnessing the knowledge and expertise of different stakeholders worldwide."
Freek van Eijk, CEO Holland Circular Hotspot
Accelerator Sessions
During the event's third day, the Dutch delegation actively organised four acceleration sessions in collaboration with the Nordics Circular Hotspot, African Circular Economy Network (ACEN), and the European Circular Economy Stakeholder Platform (ECESP). Led by – among others – our colleagues Stéphanie Schuitemaker, Luca Polidori, and Freek van Eijk. These sessions focused on the role of local initiatives in propelling the circular economy. Collaboration between local and regional initiatives was critical to accelerating the global circular transition. You can explore the photos showcasing the Accelerator Sessions by following this link.
Learnings from WCEF KIGALI: Africa's circular journey unleashes the power of circular economy hubs
This session sheded light on Africa's unique opportunities and challenges in advancing the circular economy. The role of circular economy hubs in connecting stakeholders and accelerating the transition was discussed, and future collaboration plans were outlined. Abayomi Magbagbeola from ACEN provided a sneak peek of the upcoming Lagos Circular Hotspot event, showcasing the circular economy initiatives in Lagos, Nigeria.
While Vesna Lavtizar, PhD, representing HCH and Institute for Global Environmental Strategies (IGES), summarised the session's findings in Kigali: "Circular hubs come in many different shapes. However, they have in common that they can help globalise the CE, as they know all the relevant stakeholders, their needs and the opportunities that lie ahead. They have the connections already and can foster action."
The local approach: interregional collaboration for a circular built environment
In the Construction session, Guido Rink from the municipality of Emmen in the Netherlands emphasised the importance of thinking globally and acting locally. The session highlighted inspiring examples of circular business models in the built environment and the need for more experimentation.
"There are many inspiring and successful examples of circular business models in the built environment, but we need more, in particular, to experiment more. Considering buildings as a service (functionality vs physical space) is a great starting point. Upcycling materials from one sector to the other, like in the case of Bergen where demolished material from ships are used for new buildings, is another winning approach" – Anett Andreassen, Construction Transition Group (Nordics).
One of our main takeaways from the session was the recognition of the significant potential held by local initiatives in shaping a circular built environment. This insight highlighted the transformative impact that localised efforts could have in driving sustainability and circularity in the construction sector.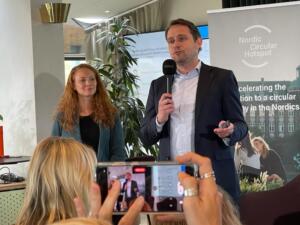 The local approach: interregional collaboration for a circular plastics value chain
Plastic might be a fantastic material. Given the growing awareness of the impacts of plastics on people and the planet, and the increasing public and private initiatives and commitments, this is a market in motion that will soon evolve globally. Actions on plastics must be seen from a value-chain perspective and in an international context. Local initiatives showcased the power of entrepreneurship in accelerating the transition towards closed-loop plastics value chains. Collaboration between local and regional initiatives was pivotal in increasing impact and inspiring others to join the movement.
As we move forward, let's leverage the knowledge and critical insights gained from this session to further our progress and collaboration towards establishing a circular plastic value chain. One of our main takeaways from this session was the importance of fostering collaboration between local and regional initiatives, showcasing its instrumental role in increasing impact and inspiring others to join the movement. By building upon our learnings and promoting collective action, we can drive meaningful change and advance towards a more sustainable and circular future for plastic waste management.
Circular Hotspots of the World: Driving the Global Movement
Unveiling the significant transformation brought about by grassroots circular economy hubs, this session offered invaluable insights into their development across the globe. Innovative sustainability practices from pioneering change-makers, spanning all six continents, were discussed to enhance understanding and inspire action. Alana Craigen from the UNDP played a pivotal role, bridging the gap between these ground-up efforts and top-down strategies, fostering a spirit of collaboration and synergy.
As we look forward to exciting developments in uniting the network of national and regional circular economy hubs across Europe, there is an excellent opportunity to strengthen partnerships and foster collaboration.
Our takeaway from this session was the remarkable impact of bottom-up movements and how circular networks have become catalysts for the circular economy.
Nordic - NL Night
These eventful days were crowned with a networking event, Circular Night, giving all present companies a further chance to gather, talk and make those all-important connections. As we reflect on the event, we encourage everyone who participated to follow up on the great conversations and ideas that were shared. Let's build on the momentum and turn these discussions into actionable steps towards a more circular future!
You can find photos that beautifully capture the atmosphere of the Nordic-NL night by clicking here.
World Circular Economy Forum Heads to Brussels in Spring 2024: Accelerating the Transition Towards Sustainability
In an exciting announcement at WCEF2023, The World Circular Economy Forum (WCEF) will take place in Brussels in spring 2024, aiming to accelerate the shift towards a sustainable and circular future. Following the success of WCEF2023 in Helsinki, which drew 1,800 leaders, WCEF2024 expects to have an even greater impact, with an additional 5,000 participants joining online, fostering a global dialogue on circularity.
Upcoming Events and Dutch expertise requested
We look forward to future opportunities to collaborate with you and jointly accelerate the transition towards a sustainable world. Dutch companies are already being sought after by the Regional Business Development Team Nordics & Baltics for specific programs focused on:
Sustainable Buildings & Energy Systems
Bio-Based Modular Housing & Systems
Sustainable Business Parks
Floating Constructions
Circular Construction and Renovation of Roads, Tunnels, Bridges, and Viaducts (Sustainable Road Infrastructure)
Innovative Railway Solutions (including Station Construction)
Multi-Modal Mobility Hubs
Last-Mile Logistics Hubs
Additionally, the embassy network has organized the following events as 'showcases' for Dutch solutions, goods, and services:
UIA World Congress, Copenhagen (2nd July – 6th July)
TechBBQ, Copenhagen (13th September – 14th September)
WDBE, Helsinki/Tallinn (19th September – 20th September)
Digital Supplier Day, Sweden (28th September)
Elmia Nordic Rail Fair, Jönkoping (10th October – 12th October)
Mission Sustainable Building and Energy Systems, Gothenburg (12th October – 13th October)
Nordic Circular Summit, Reykjavik (17th October – 18th October)
ByggReisDeg, Oslo (18th October – 21st October)
Slush 2023, Helsinki (30th November – 1st December)
Building Network Construction Conference (November)
Perhaps there is something iteresting for you!