Healthy Seas Socks – Sustainable fashion
Healthy Seas Socks are partially made of ghost nets: old fishing nets that are abandoned or lost in the ocean. By recovering them, corals get a chance to flourish again on the bottom of the ocean, sea animals won't get stuck in it and further plastic pollution is prevented.
In collaboration with the Healthy Seas initiative, Healthy Sea Socks recovers ghost nets from the ocean to transform them into regenerated nylon. Healthy Seas Socks combines the regenerated nylon with 100% organic GOTS cotton.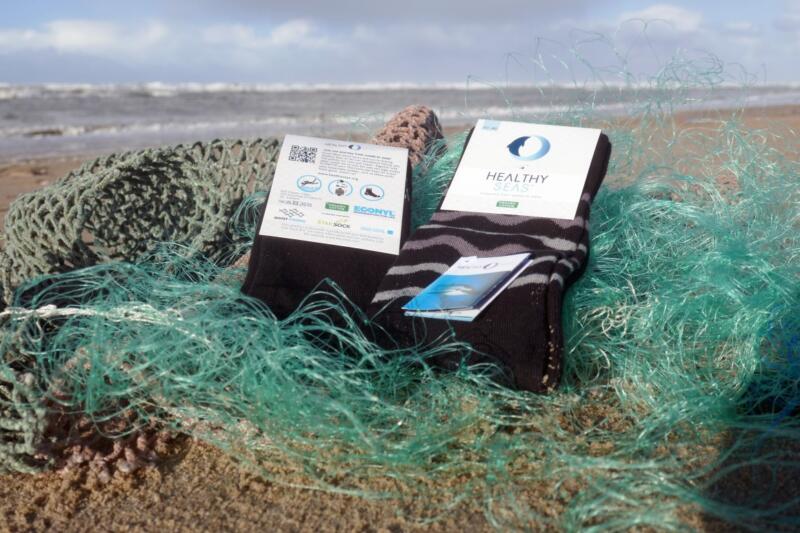 Wear a sock. Save a fish.
Healthy Sea Socks
Together for a clean ocean
The non-profit initiative Three specialized companies founded healthy Seas in total: Ghost Diving as a professional in the recovery of ghost nets, Aquafil as the producer of nylon from waste and parent company  Star Sock producer of high-quality socks. A part of the profit of Healthy Seas Socks is donated to the Healthy Seas initiative partnered up with World Wide Fund (WWF) to support cleaning up the ocean and preserving marine life.
Healthy Seas uses this money for prevention, education, and the continuous recovery of old fishing nets. Since 2013 the Healthy Seas initiative has already recovered more than 510.000-kilo fishing nets. That is how they are making a difference together and how you can minimize your ecological footprint with such little effort.

Impact on the environment
Healthy Seas Socks aren't just good for the environment. Since February 2015, their parent company, Star Sock, has been a member of the Fair Wear Foundation. As a Fair Wear member, they guarantee that their socks are made with good working conditions and for fair pay.